Royal Tour
We welcome Prince William and Kate Middleton for their Royal Tours in Bhutan starting today 14-April, 2016. Royal itinerary and highlights are integrated under this program. We will take you through the journeys of The Duke and Duchess of Cambridge and let you experience the royal tour while in Bhutan.
Why not visit this beautiful Himalayan Kingdom to experience like the Royal Couple? Follow the private itinerary, feel like in Heaven, enjoy clean air, scenic beauty and peaceful country with Heavenly Bhutan.
We will take care of your royal tours including booking your flight tickets in and out of Bhutan. Arranging excellent hotels, making your visa to visit Bhutan, providing best private cars and giving exclusive expert guide besides including hidden sites for your happiness. We wait to get your email at heavenlybhutan@gmail.com
Exclusive Private Programs by Royal Couple, Duke and Duchess of Cambridge
Day 1: Arrival in Paro-Bhutan, drive to Thimphu
You will fly to Bhutan and arrive at Paro airport where you will be met by Heavenly Bhutan staffs. We will take a scenic drive to the capital city of Thimphu.
Our first stop will be at Chuzum meeting points of two rivers, then we will head to Thimphu and check into the hotels and relax. We will visit a temple where we will receive a brief blessing and will light butter lamps.
In the afternoon we will head to Thimphu's open-air archery venue, to witness the country's national sport. We will also meet young people, locals who will be playing other traditional games. We will head to visit amazing royal fortress. Private dinner with director of Heavenly Bhutan.
Day 2: Thimphu sightseeing
Second day, soak ourselves into the scenic nature, Jigme Dorji Wangchuk Park walk and hike to Tango Monastery in the morning. Picnic lunch at the river side
Afternoon, we will visit Buddha viewpoint, Art School and Weekend market. Enjoy the evening walk in the town meeting locals and kids, explore the city to the fullest.
Day 3: Thimphu to Punakha
Morning walk and visit beautiful temples at Dochula pass. Enjoy the breakfast on the highest pass with morning views.
Visit to royal botanical garden at Lamperi will give us inside view of the rich flora and fauna of Bhutan. Later in the afternoon we will hike to fertility temple at Mesina. Evening join the nuns for the prayers at Punakha.
Day 4: Punakha halt
Visit to massive fortress Punakha Dzong, enjoy the most amazing arts and crafts at the Dzong site. Walk to the longest suspension bridge which CNN Mr. Bill Weir highlighted in his recent wonder list on Kingdom of Bhutan.
We will enjoy camping and rafting in the afternoon.
Day 5: Punakha to Paro
Retrace our drive back to Paro, via Dochula, Thimphu and Chuzom. On arrival enjoy wearing Bhutanese dress, shooting archery and heading to typical farm house for Bhutanese meal with local families. Enjoy hot stone bath and check into the hotel later in the evening.
Day 6: Tiger Nest Hike, taking footsteps of Duke and Duchess of Cambridge
Prince William and Kate will hike for five to six hours to Paro Taktsang, the Tiger's Nest monastery which dates to 1692. The monastery is a magical place near the cave where Guru Padmasambhava – who is credited with introducing Buddhism to Bhutan – is said to have meditated for more than three months in the eighth century.
Back in Hotel that evening, enjoy the cultural show hosted by Heavenly Bhutan.
Day 7: Tour Ends, with the flying back on the tigress back for the onward journey to home.
Tourism thrives in Bhutan, thanks to our warm climates, stunning sceneries and the unique development policy of Gross National Happiness. Although Bhutan is all year round destination, most preferred season are Spring and Autumn. June, July and August greets with charming green scenery and December, January and February gives stunning blue skies with snow on the passes and on mountain peaks.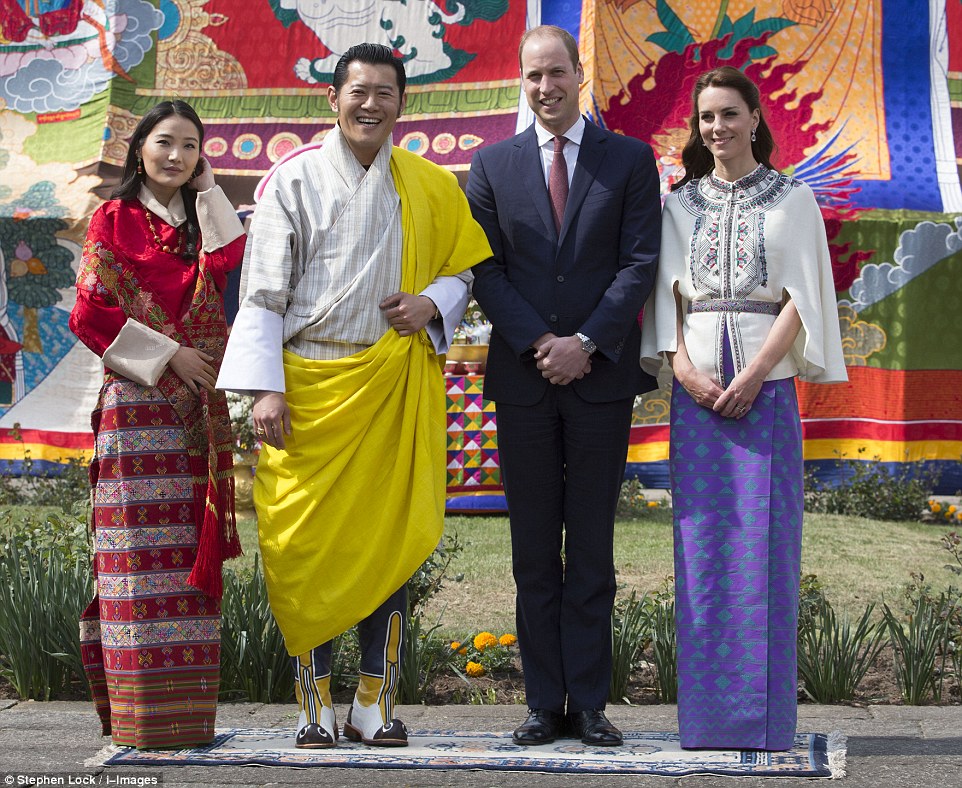 Search Your Perfect Holidays