Jumolhari Yaksa Trek
Duration : 12 Days
Day 01: Arrival in Paro – Thimphu (1.2 hrs)
Day 02: Thimphu – Paro (2. 5 hrs)
Day 04: Paro – Shana (Trek start). Distance 15k, walking time: 6h, sleeping altitude: 2800m.
Day 05: Shana – Thangthangka. Distance: 21k, Walking time: 8h, Sleeping altitude: 3630m.
Day 06: Thangthangka – Jangothang. Distance: 16k, Walking time: 6h, Sleeping altitude: 4090m.
Group Size : Any number, above cost is based on 3 pax and above travelling together
Jumolhari Yaksa Trek is one of the famous and oldest trek route which take us to the base of Mt. Jumolhari which is 7314m. The trek is one of the best of its kind for hardcore trekker. The trek can be done into two parts, one is called up down trek and other is round trek. The round trek takes 6-7 days and up-down can take 4-5 days only. The trek under this program is combined with cultural tour to acclimatize before we start the trek. We will provide more details once you choose to use our services.
– US$ 40 per person visa fees
– Visa arrangement for your stay in Bhutan
– Government royalty and all the taxes
– Accommodations in best 3 star hotels on twin sharing basis, options available for cultural tour
– Trekking Gears provided (Sleeping tent, dinning tent, kitchen tent, table, chair, toilet tent, sleeping mattress-thin water proof, duffel bags)
– Trekking facilities provided (Trekking chef, helper, trek guide, horses for luggage, horsemen)
– All meals (break, lunch & dinner), options available
– Full time English speaking Heavenly Bhutan guide Trekking cum Cultural
– Private transportation and sightseeing as per the itinerary, we are flexible
– Museums and parks fees indicated in the itinerary
– Bottled drinking water throughout the journey
– Flight fares – available from Singapore, Bangkok, Delhi, Kathmandu, Kolkata and Dhaka
– Personal expenses, phone calls, laundry, shopping, etc
– Sleeping bags (-30 degree needed for comfortable sleep evening during summer as you will be sleeping in very high elevation)
– Gratitude/Tipping
– Single room supplement
– Luxury hotels/resorts available on supplement cost
– Specialized guides available on supplement cost (Language, Photography etc)
– Travel Insurance must for any trekking groups and must provide the details to our offer before the trek
– Outdoor Activities (Mountain Biking, White river rafting, Tiger Nest Horse Ride etc)
– For single person traveling alone we charge USD 40/night extra
– For two persons traveling together we charge USD 30/person/night extra
– Cancellation policy, please refer terms and conditions and trekking conditions
Day 01: Arrival in Paro – Thimphu (1.2 hrs)
On arrival in Paro international airport, you will be received by HBT representative and transfer to Thimphu by private cap. Thimphu is capital city of Bhutan. On arrival, check-in to your hotel. Later in the afternoon, visit Memorial Chorten and Buddha viewpoint. Evening we will visit Tashichho Dzong, which house the throne room of His Majesty the king and winter resident of the central monk body. The structure, the art and architecture of Dzong is so amazing that you have never seen something like this before. All the above sightseeing will wrap up your unforgettable first day in Bhutan. Overnight: Thimphu, altitude 2400m.
Day 02: Thimphu – Paro (2. 5 hrs)
Enjoy delicious breakfast, check out from the hotel and proceed to visit School of Arts and Craft and nearby national library. Later, explore craft bazaar of Thimphu city and government own handicraft emporium before proceeding to Paro. Late lunch in Paro. After lunch, visit National Museum, the first of its kind which has a collection from natural history to religious paintings. Visit 17 century Paro Dzong (Fortress) on foot and continue walking through the oldest wooden bridge still in use. Evening stroll old Paro town and peep into some local handicrafts stores. One can also venture to try local restaurant for dinner. Overnight: Paro, altitude 2200m.
Day 03: Paro sightseeing
Early morning after our delicious breakfast drive to north end of Paro valley and hike to Tiger Nest Temple. The hike to Tiger's Nest will take most of our day. The temple is one of the most renowned temple in the Buddhist world one of the ten most visit site before we die. This is most revolted temple in the country that literally hangs on a granite cliff overlooking the Paro Valley at 900m above the valley. En-route visit Kichu Lhakhang, one from the 2 oldest Buddhist temple in the country, historic Drukgyal Dzong (Fortress) and Evening at leisure
Day 04: Paro – Shana (Trek start). Distance 15k, walking time: 6h, sleeping altitude: 2800m.
The Drugyal Dzong was built in 1654 by the Shabdrung to commemorate one of the many war victories against the Tibetans. Over the centuries, it guarded the trail from Tibet into the Paro valley. We will be met at this historic site by our trekking crew for the start of our trek. Follow the Paro Chu upstream through the village of Tshento on a dirt road for about an hour. We will have lunch in a friend's house on the trail. Just before reaching our camp, we will have to pass through an army check post, where your guide will produce your trekking permit.
Day 05: Shana – Thangthangka. Distance: 21k, Walking time: 8h, Sleeping altitude: 3630m.
The trail from Shana to Thangthangkha is a very rocky series of small ups and downs along the Paro Chu and can be very muddy if it rains. About 2 ½ hours into the trek, you will come at a junction where a trail branches to go to Tibet. Don't go to Tibet!
Day 06: Thangthangka – Jangothang. Distance: 16k, Walking time: 6h, Sleeping altitude: 4090m.
Today you will come across small sparse settlements, and herds of yaks. You will also be crossing the tree line (4000m). Our camp at Jangothang will bring us face to face with the majestic Chomolhari. Jangothang means the land of ruins; you will see ruins of some old settlements, which no one seems to know much about.
Day 07: Jangothang halt
Acclimatization and rest day. A good optional hike is to climb to the Tshophu Lake at 4300m, which is about 2h from Jangothang
Day 08: Jangothang – Yaksa. Distance 17k, walking time: 7h, sleeping altitude 4090m.
Pass to cross: Bongtey La, 4820m. Sleeping altitude: 3800m. 2 hours from Jangothang is the Tshophu Lake, which you probably visited yesterday. From the lake, it's another 2 hours to the pass. Climbing up to the pass, we will be rewarded with stunning views of the Chomolhari and Jichu Drakey. From the pass, it's all the way downhill until our camp at Yaksa.
Day 09: Yaksa – Thombu. Distance 14k, walking time 5h, Pass to cross: Thombu La, 4550m, sleeping altitude: 4150m.
Climbing out of Yaksa, you will see the few houses that make up the Yaksa village across the valley, and the pass you came over yesterday. About 2 hours of gradual climbing and you will cross the tree line, entering another valley. The pass is 1 hours climb from here. From the pass, you can see the yak herders grazing grounds of Thombu, our camp. On a clear day, you can even see some houses in Tibet.
Day 10: Thombu – Gunitsawa. Distance: 17k, walking time: 6h, sleeping altitude: 2600m.
A short steep climb will take us out of the Thombu basin, traversing along a trail cut into a rocky cliff with a dizzying drop. 4 hours of steep and dusty descent (1 ½ k of vertical descent) will bring us to the army check post that we crossed on the first day of our trek. Our camp is a further 2 hours downstream from the army camp.
Day 11: Gunitsawa – Paro (Trek end). Distance: 10k, walking time: 4h.
Last day of our trek. We are back tracing the trail now. Very soon Drugyal Dzong will come into view where our transport will be waiting. After lunch in Paro. After lunch relax at our hotel and evening explore the charming Paro town. Overnight in Paro.
Day 12: Departure
The tour will end today. After the breakfast, we will transfer you to the airport for your departure flight. Carry smile on your face, eyes with tears and memories unlimited. Tour staffs will bid you farewell at the airport departure gate with the quick prayer of save journey and to see you again in future.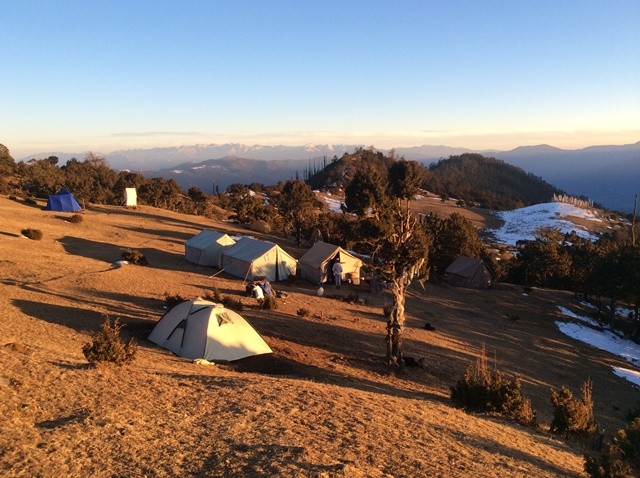 Bumdra Overnight Trekking
Duration : 7 Days
Destination : Trekking in Bhutan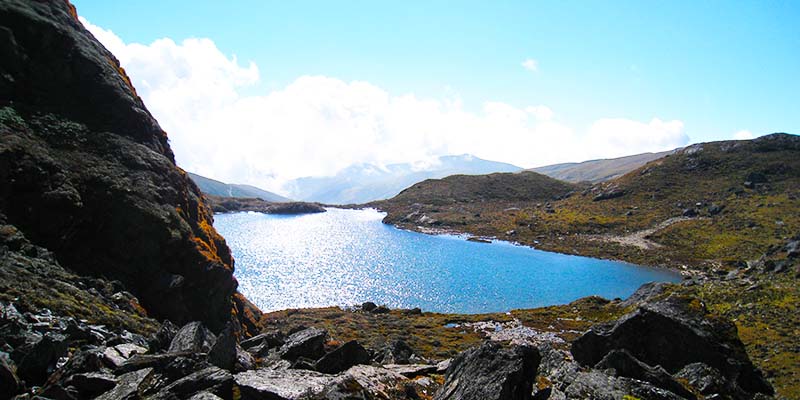 Dagala Trek-I
Duration : 8 Days
Destination : Trekking in Bhutan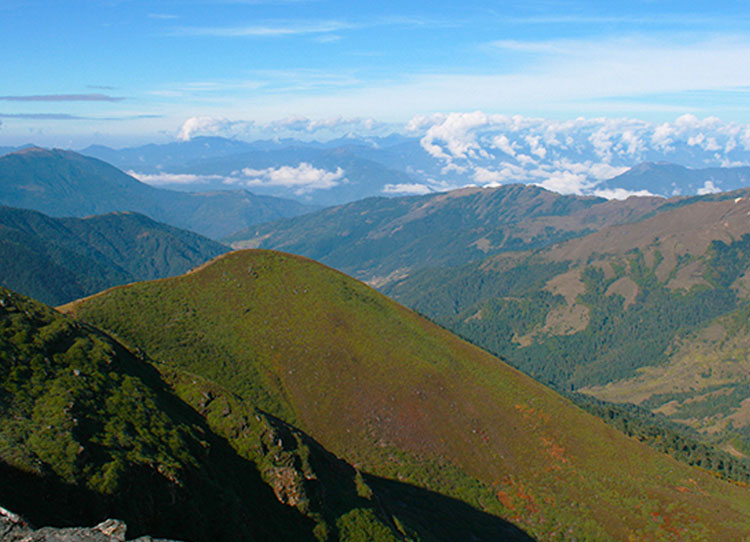 Dagala Trek-II
Duration : 10 Days
Destination : Trekking in Bhutan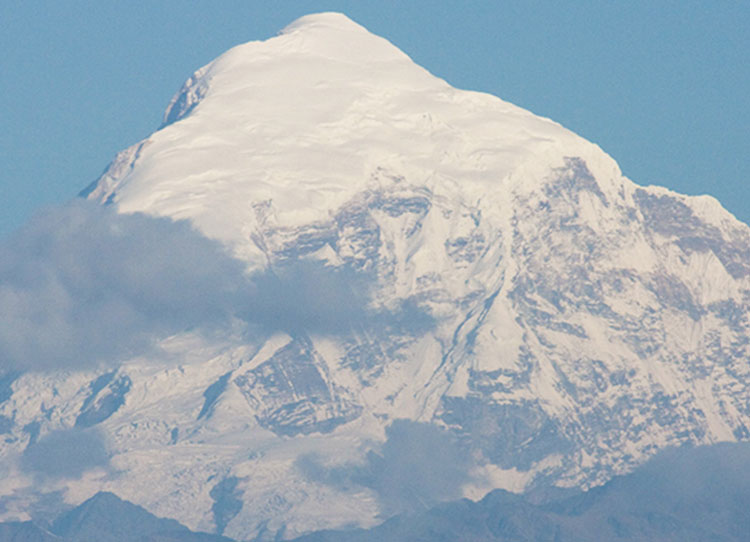 Thousand Lakes Trek
Duration : 12 Days
Destination : Trekking in Bhutan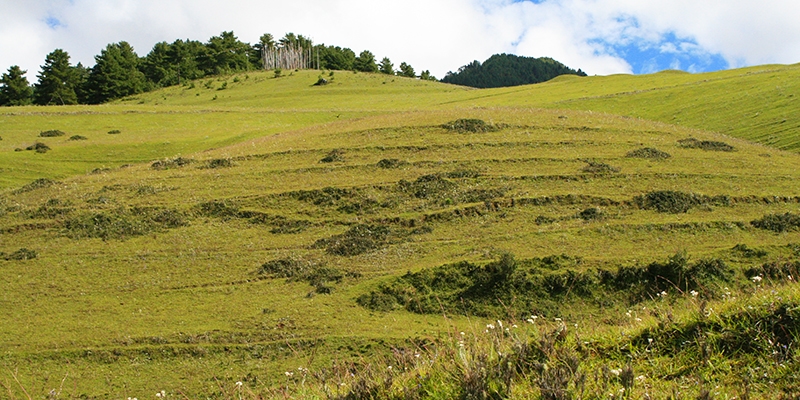 Gangtey Trek
Duration : 10 Days
Destination : Trekking in Bhutan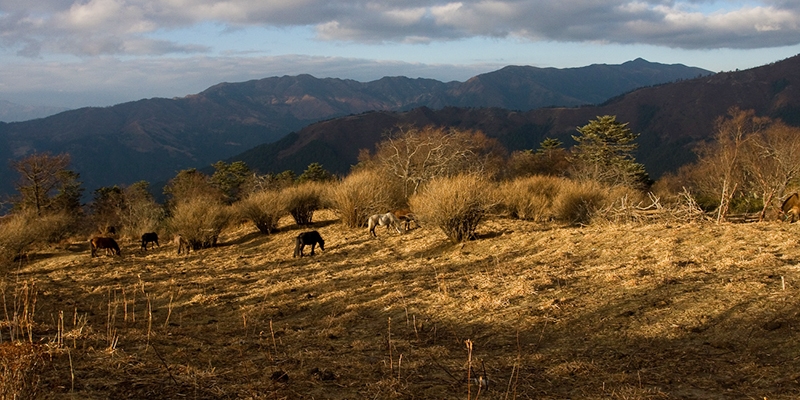 Samtegang Winter Trek
Duration : 10 Days
Destination : Trekking in Bhutan